There are only two days left until the start of second round of The International programming contest CodeIT
София, 12.12.2018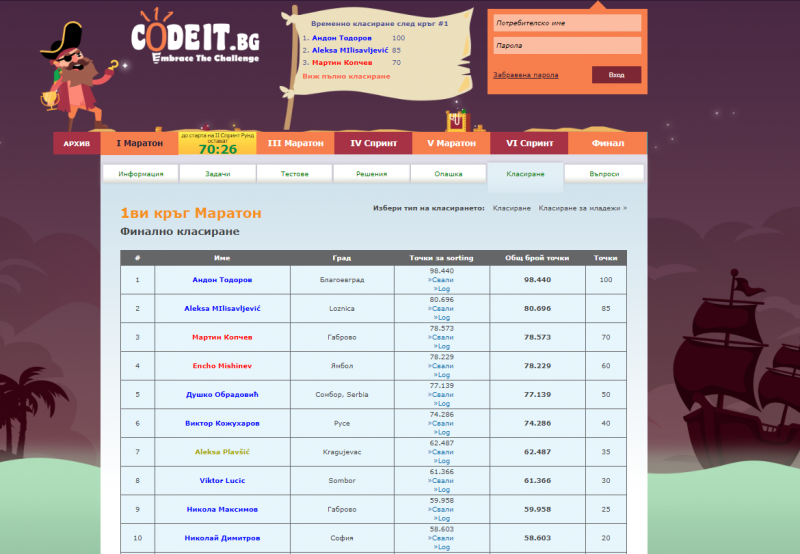 There are onlytwo days left until the start of second round of The International programming contest CodeIT (www.codeit.bg ) Season 2018/2019. The sprint will be held online on December 15th (Saturday), from 16:00h until 20:00h. The round will challenge the participants with several "fast" tasks. The condition for the contestants will be to reach precise result for each task.
CodeIT second round will be held under the patronage of Associate Prof. Dr. Parvan Parvanov, Dean of
Faculty of Mathematics and Informatics of Sofia University "St. Kliment Ohridski" and Prof. Anastas Gerdzhikov, Rector of Sofia University "St. Kliment Ohridski"
The winner of the second round, Andon Todorov, 9th grade student from Blagoevgrad, received COUGAR VANTAR Scissor Gaming keyboard, kindly provided by the partners of the contest - ASBIS. They will take care of many more exciting awards for the winners in the next rounds. Every competitor with non-zero result in the round receive a T-shirt with the mascot on of this year's edition – the adventurous pirate. All awards are reaching the participants thanks to the partners of the competition – Rapido
You can find an updated information of the ranking and news about the contest on the CodeIT www.codeit.bg website and on the Facebook group https://goo.gl/GVrULo.
The CodeIT (http://codeit.bg/)is held for the 19th consecutive year and is one of the oldest in the world. This year the contest will be also held under the patronage of the President of the Republic of Bulgaria. CodeIT is part of the corporate social responsibility policy of the company, and the strategy to encourage and empower anyone with an interest in algorithms, programming and information technology. Musala Soft believes that quality and effective learning and talent stimulation foster their drive for development and work for the better future of the software industry.
For more information:
Musala Soft
PR Department
Tel. +359 (2) 969 5821; +359 (894) 744 722