The third round starts soon!
София, 17.01.2020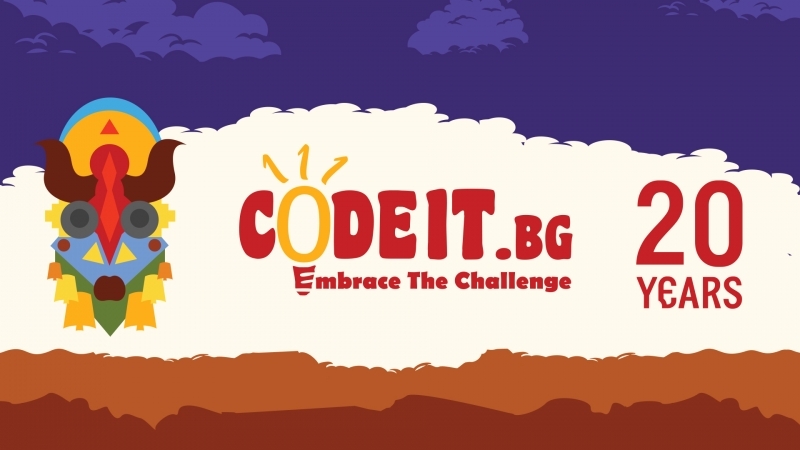 The third round of the international programming contest CodeIT will begin this Sunday, January 19th.
After the sprint in the second round, now it's time for a marathon again. The round will start at 2PM EET and the participants will have 3 weeks to complete the tasks. The end will be on February 9th at 10PM EET.
Just like in the first two rounds every participant with non-zero result will receive a t-shirt with this mascot of the 20th anniversary edition of the tournament – the mystical kuker. 3 additional prizes will be given away by draw – a sweatshirt and two presents from Asbis Bulgaria, official distributor of Prestigio and Cougar Gaming.
"On behalf of The Institute of Mathematics and Informatics (IMI) is BAS I most warmly congratulate you as participants in the annual edition of one of Bulgaria's most prestigious national competitions in informatics – CodeIT. I hope you will make new contacts with people who think like you during the contest, start new friendships and prove yourself as future leaders in the informatics technologies. We are particularly thankful to Musala Soft for the initiatives and cares for developing young specialist", said Vesselin Drensky, Academician of BAS, Professor, D.Sc., Director of IMI.
Additional information about CodeIT:
CodeIT www.codeit.bg is the most prestigious private programming contest in Bulgaria and one of the oldest in the world which Musala Soft (http://www.musala.com/) has been organizing since 2000.
According to the contest rules, there are six preliminary online rounds and a grand finale in Sofia. Only those who have the best results in the preliminary rounds will reach the final – 12 finalists from the general ranking and 5 from the junior ranking (up to 8th grade).
There are not any age limitations for participation in the contest but currently the participants are mainly high-school and university students with interests in algorithms and competitive programming, many of them medalists from National and International Olympiads and other contests.
The contest is also supported by government and academic institutions, NGOs, IT Associations, professional and business organizations.
Honorary chairman of the jury of the contest will be Prof. Krassimir Manev, President of the International Olympiad in Informatics (IOI) 2014-2017 and President of the European Junior Olympiad in Informatics (eJOI).
Musala Soft wishes good luck to all contestants in the forthcoming edition of the contest CodeIT and encourage them to follow their dreams!
Latest information about the contest can be found at CodeIT website www.codeit.bg and in the Facebook group of the event (https://goo.gl/GVrULo)