Ranking and awards in the third round of CodeIT
Sofia, 27.01.2023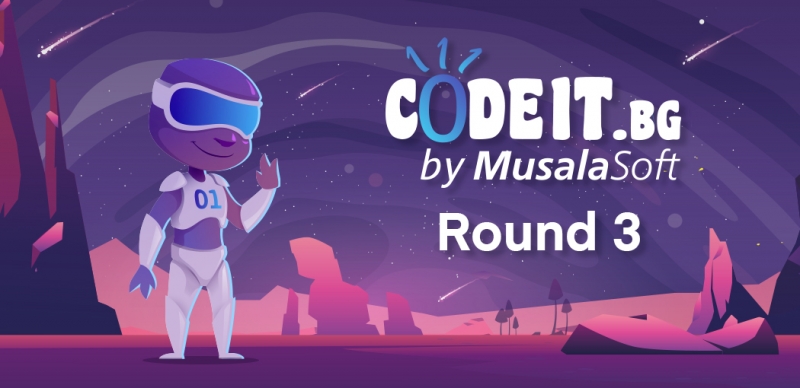 The third round of the international competition in competitive programming CodeIT is over. The participants had several weeks to solve the challenge by the organizers from Musala Soft. The round was also the most contested so far - the Junior leaders are only a few hundredths apart.

Top three in the Overall ranking:
1. Encho Mishinev, Yambol, Bulgaria
2. Emil Indzhev, Ruse, Bulgaria
3. Dushko Obradović, Sombor, Serbia

Top three in the Junior ranking:
1. Ivo Ivanov, Shumen, Bulgaria
2. Veljko Galović, Sombor, Serbia
3. Simona Hristova, Shumen, Bulgaria

All competitors with a non-zero result receive a T-shirt with the new look for the season. The prizes from the draw after the third round, provided by the competition partners Cougar and Prestigio, go to: Ivo Ivanov, Shumen, Bulgaria – computer keyboard; Ivan Iliev, Sofia, Bulgaria – computer mouse; Aleksandar Georgiev, Varna, Bulgaria - CodeIT sweatshirt. Partners of the competition are also B2B Media, DevStyleR and I can Here and Now.

Patrons of this round are Prof. Petar Boyvalenkov, D.Sc, Director of Institute of Mathematics and Informatics, Bulgarian Academy of Sciences, Veselina Karapeeva, Principal of Mathematics high school "Acad. Kiril Popov", Plovdiv and Assoc. Prof. Dr. Eng. Stela Stefanova, Principal of the Technological School "Electronic Systems", sub-branch of the Technical University – Sofia.

The ranking for all rounds, news and any current information about the competition can be followed on the website and on Facebook / CodeIT.BG.