The President of the Republic of Bulgaria Rosen Plevneliev awarded the winner of the CodeIT programming contest, 2014 edition
Sofia, 13.05.2014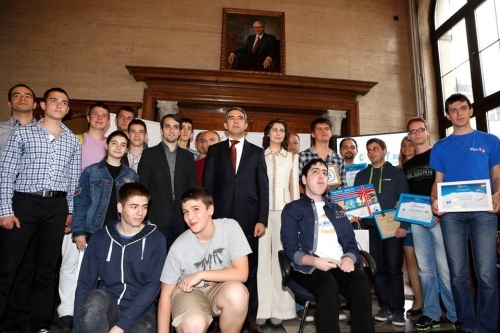 Photo of the finalists in CodeIT, season 2014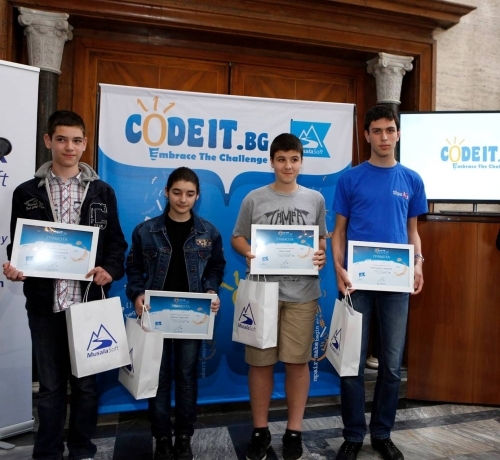 Photo of the best competitors in CodeIT Junior, season 2014
The President of the Republic of Bulgaria Rosen Plevneliev awarded the winner of the programming contest CodeIT 2014. Anton Raychuk from Ukraine ranked first, with the most points scored during the finals. Momchil Peychev, 12th grader at "Dr. Petar Beron" High School of Mathematics - Varna was second, and the third place was taken by Vladislav Haralampiev, а third year student at the Faculty of Mathematics and Informatics, Sofia University "St. Kliment Ohridski".
Guests at the official awarding ceremony were: partners of the contest from non-government organizations, IT associations, representatives of the business and the most elite educational institutions in Bulgaria. During the official ceremony the President of the Republic of Bulgaria Rosen Plevneliev emphasized on the country's potential to become a regional centre in the field of information and communication technologies.
"We have a chance to once again position Bulgaria on the map as a regional centre for high technology, as a country of innovation and as a country where young people try, learn, risk, and above all work", said the head of state.
The CodeIT winner is determined after a final round, where the 12 best contestants of the season take part. The overall ranking of the finalists is as follows:

1. Anton Raychuk, Ukraine
2. Momchil Peychev, Varna
3. Vladislav Haralampiev, Sofia
4. Veselin Georgiev, Sofia
5. Todor Bonchev, Vratsa
6. Alexander Georgiev, Sofia
7. Encho Mishinev, Yambol
8. Dobrik Georgiev, Haskovo (A&B School, city of Shumen)
9. Vladimir Vladimirov, Montana
10. Plamen Tomov, Sofia
11. Simeon Stoykov, Yambol
12. Pano Panov, Sofia
Specially for the finalists, the world famous Russian IT guru Piotr Mitrichev visited the country. He delivered a lecture to the best performers in CodeIT and CodeIT Junior, as well as to the students from the leading Bulgarian school of informatics "A&B", Shumen. "I am glad that undergraduates and experienced programmers are competing here as well as children and students. The contest provided a quite challenging task at the final" - said Piotr Mitrichev.
The finalists' awards were provided by the American Foundation for Bulgaria, Infragistics, Brother, Joy Optics, Microsoft Bulgaria, Bulgarian Association of Information Technologies (BAIT), Bulgarian Association of Software Companies (BASCOM,) Musala Soft, Ciela bookstores and Freckles. The ceremony was held thanks to Eduardo Miroglio Winery and the hosts from Executive Agency "Electronic communication networks and information systems".
The competition has a 14-year history and is organized by the software company Musala Soft. Each year CodeIT is held under the patronage of the President of the Republic of Bulgaria.