Musala Soft with a recognition from BBLF – "Investor in knowledge"
Sofia, 26.02.2014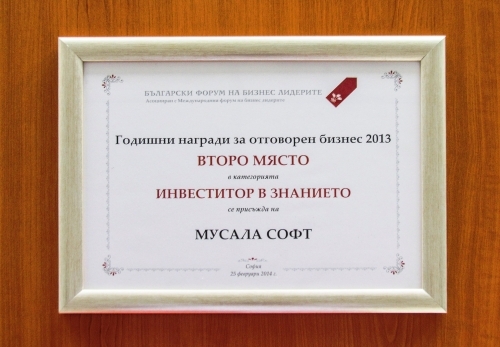 The programming competition CodeIT with two awards in 2014
Musala Soft won an honor with the initiative CodeIT during the XI Annual awards for responsible business, organized by the Bulgarian business leaders forum (BBLF). The jury distinguished the programming competition CodeIT with a second place in the category of "Investor in knowledge", which the software company organizes for more than 14 years.
The awards for responsible business by BBLF aim to promote the responsible behavior of business in Bulgaria. They are recognition to the effort of these companies, who successfully develop projects in the field of corporate social responsibility while trying to inspire other business representatives to develop active social politics. This year 56 Bulgarian and international companies submitted a total of 70 projects with a social direction, realized in 2013.
A total of 22 projects have applied in the category "Investor in knowledge", which made the contest highly competitive. "The strong competition proves once more that the business recognizes as its own long-term responsibility the need of targeted efforts for improving the educational system" – BBLF shared in their official statement.
At the beginning of the year the Programming competition CodeIt won the "Corporative and Social Responsibility" award from the Bulgarian Association of Information Technologies (BAIT).
More information about CodeIT:
CodeIT doesn't have any age restrictions for the IT talents, but the main group of participants are students with interests in algorithms and competitive programming – a lot of them are current or future medalists from international Olympiads. The competition runs annually in 6 external and a final, which has to be attended. Each external round consists of solving problems with a algorithmic or practical-applied character, which is prepared, tested and rated by a specially formed team in Musala Soft – CSLAB (Computer Science Laboratory). Apart from the numerous prizes for all the participants with a result larger than zero and for the winners from the rounds and final, an extra motivation for the participants in CodeIT is the opportunity to be present live at a training discussion of a world-class programming competitor. In 2012 a special guest and lecturer for the finalists in CodeIT was the guru in competitive programming – Bruce Mary, doctorate of Computer Sciences from Cape town University. In 2013 – Pshemislav Denbiak from Poland – also a guru in the field of informatics. In 2014 the participants will meet the idealized Piotr Mitrichev from Russia.
Honorary chairman of the jury in the competition is docent Krasimir Manev, the man, who has trained the most Bulgarian informatics medalists. Every year the grand final is held under the patronage of the President of the Republic of Bulgaria.
CodeIT is an international competition from season 2013/2014. Also this season is the start to  CodeIT Junior of the youngest.