Second round of CodeIT ended with leaders from 6 different cities
Sofia, 13.12.2022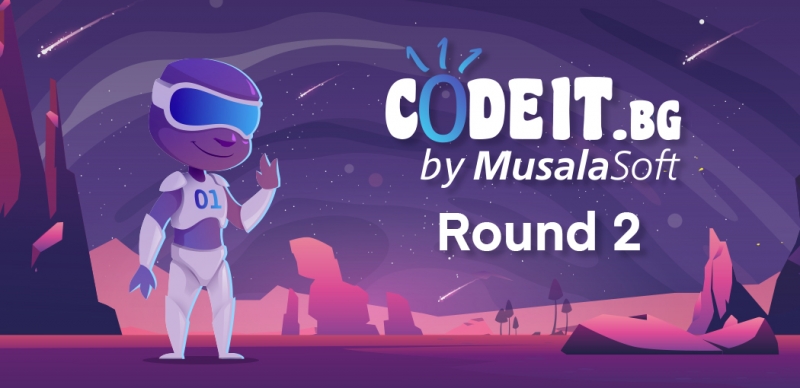 The second round of the international competition for competitive programming CodeIT by Musala Soft ended. It was of the "Sprint" type and the participants had 4 hours to find a solution for the challenges of the competition. 44 participants took part in the round, 18 of them - juniors. Here is the ranking of the round:

Top three in the Overall ranking:
1. Dobromir Angelov, Varna, Bulgaria
2. Yasen Penchev, Gabrovo, Bulgaria
3. Boris Mihov, Sofia, Bulgaria

Top three in the Junior ranking:
1. Veljko Galović, Sombor, Serbia
2. Bozhan Ivanov, Targovishte, Bulgaria
3. Serkan Rashid, Shumen, Bulgaria

The prizes from the draw after the second round are provided by the competition partners Cougar and Prestigio. They go to: Ivo Ivanov, Shumen, Bulgaria – computer keyboard, Mihael Ibisic, Bački Monoštor, Serbia – computer mouse, Nikola Manolov, Haskovo, Bulgaria - CodeIT sweatshirt. All participants with a non-zero result will receive a T-shirt with the new look for the season. This year the competition welcomes its new partners - B2B Media, DevStyleR and "I can - here and now".

The Second Round was held under the patronage of Prof. Eng. Ognyan Nakov, PhD, Dean of the Faculty of Computer Systems and Technology at TU – Sofia and Adviser to the Minister of Education and Science on ICT and Ivaylo Ushagelov, Director of the National High School of Natural Sciences and Mathematics "Acad. Lubomir Chakalov"

The ranking for all rounds, news and any current information about the competition can be followed on the website and on Facebook / CodeIT.BG.