First round Marathon
Round time
Start: 28.10.2023 / 10:00 h.
End: 19.11.2023 / 20:00 h.
It is pleasure and honor that Sofia University "St. Kliment Ohridski" is once again a partner to one of the most prestigious programming competitions. Our Faculty of Mathematics and Informatics has greatly contributed to the development of this sector with its solid academic offering in the fields of Informatics and Information Technology. This is the reason behind the excellent career placements of our graduates in Bulgaria and around the world.

Success in higher education is impossible without serious school preparation. The interest in science and Information Technology must be stimulated from an early age. That is why I welcome the consistent and long-standing work of Musala Soft to attract and develop young talents, and I wish all contestants successful performance in this season of CodeIT.
Prof. Anastas Gerdzhikov, DSc,
Rector of Sofia University "St. Kliment Ohridski"

Traditionally Sofia University "St. Kliment Ohridski" and in particular the Faculty of Mathematics and Informatics are partners to one of the oldest and most prestigious programming competitions in Bulgaria – CodeIT. As Dean of FMI, it is privilege to once again be the patron of the 24th edition of this international competition. A priority for FMI teachers is to cultivate not just good specialists with acquired fundamental knowledge in the fields of Mathematics, Informatics and Computer Science, but to produce creatively thinking young scientists with practical skills, and in particular future leaders in the IT sector. The focus and character of CodeIT completely appeal to FMI and therefore our partnership with Musala Soft has been strong for years. We are glad to continue to work together towards our common goals – the delivery of solid knowledge and skills by offering new challenges to young people in the name of developing and maintaining high professionalism in the fields of exact sciences and the IT sector in Bulgaria.

I wish fruitful work and great success to the young contestants in this season of CodeIT!
Prof. Maya Stoyanova, PhD
Dean of the Faculty of Mathematics and Informatics, Sofia University "St. Kliment Ohridski"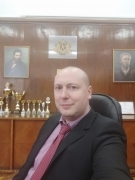 Dear students and young people captivated by the magic of programming,

I welcome you on the occasion of the start of the 24th edition of the International Programming Competition CodeIT and I wish you fun, smiles and satisfaction from the tasks and challenges you will face and solve!

In the last few years our lives have changed rapidly, and we face many new or forgotten challenges, many of which have been solved or can be solved with the help of new technologies. That is why it is important that today some of the best and brightest young minds are engaged in programming. Today programmers occupy an important place in our society not so much because of the constant focus on their activities or the constant emphasis on their high salaries, but because of the ability to influence the development of the whole society and contribute to public welfare. To be truly successful and live in a peaceful and prosperous world we need to take care not only of ourselves, but of everyone around us. I sincerely hope that each one of you will make the world a better place with the power of your intellect and logical thinking, but also with the morals and spirit that you have within.

Congratulations to the whole team of Musala Soft whose wonderful initiatives are all around us, and CodeIT is exactly such a great forward-looking initiative for a better tomorrow!

I wholeheartedly wish everyone great success!
Antoan Tonev, PhD
Director of Sofia High School of Mathematics "Paisiy Hilendarski"